Pamela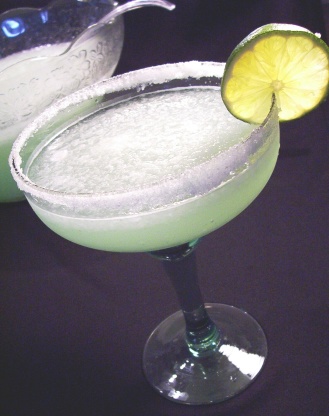 Non-alcoholic punch that works well with so many menus- fiestas, outdoor grilling, beach parties etc.. Throw in a pinata for lots of fun!

I took a chance and made this (based on high reviews) for my son's girlfriend's baby shower -- I lost count of how many batches I made!!! At least six double batches! Everyone loved it. Tomorrow I will be making it again for my grandson's first birthday!! Yummy!! I invited Jose Cuervo to visit at least my glass of punch at the baby shower, it made the party go very smoothly, no last minute stress, LOL!!!
Combine the concentrates, powdered sugar, and crushed ice in a large freezer proof container.
Cover tightly and freeze for at least one hour (or for many days depending on how early you're planning ahead).
Place the frozen mixture into a large punch bowl.
Slowly pour in the soda and add the lime and/or lemon slices.
Serve in chilled (salt rimmed optional) glasses.