3 Reviews
We had a Mexican potluck today and made a couple of these. It is the rave of our office. Words such as "this is a keeper" and "OMG" somehow managed to get out of a few of the mouths. Copies of this are all over the office from people wanting a copy. Only thing different done was added 1/4 cup frozen limeade. THANK YOU for a great recipe.

Delicious and refreshing. Easy to make. Will be making again soon. Thank you for posting.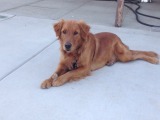 This cheesecake is to die for! I made it for Cinco de Mayo, and I am SO pleased with this recipe. I am a nursing mama, so I used orange juice instead of triple sec and only used 1 Tbs of Tequila. Also, to save time I just used a store-bought graham cracker crust that I had on hand. I did crumble pretzels on the tops of each sliced as I was serving so there was still some saltiness to it. I can't wait to make it with the pretzel crust. I think the cheesecake filling would also make a really delicious pretzel dip, which I am going to try for a party in a couple weeks. Thanks for such a delicious, versatile recipe!

Margarita Cheesecake Pie (Easy No-Bake)