luvmybge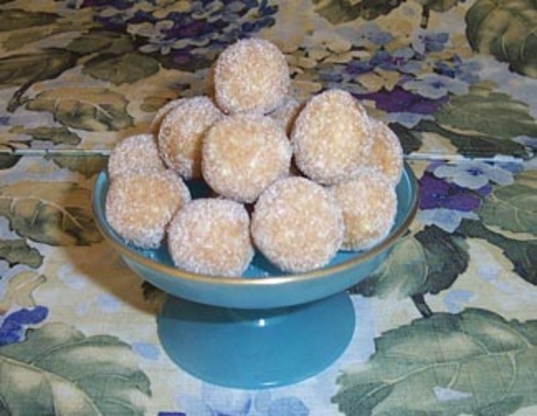 There are never enough of these! I could bring 12 dozen to my office and one co-worker (who's not a drinker) would eat them all. For those who don't like a strong alcohol flavor this is the way to go. Yumm! It's hard for me to estimate the prep time since I do bits and pieces at different times, so what I've listed is just assembly, not the time for blanching and grinding almonds and crushing cookies.

Made these for a cookie swap, and they were a real hit! I used lemon marmalade instead of orange, and then added about a tablespoon of triple sec, but that's the only change I made. I ended up making much smaller cookies, and had over 5 dozen. For Christmas, it adds a festive touch to roll the cookies in red and green colored sugar - very, very nice! Thanks, Reelani, for such a delicious, no-bake recipe!
Mix the crushed vanilla wafers with the ground almonds.
In a blender process the tequila, orange marmalade, lime juice and corn syrup'til smooth.
Stir melted white chocolate and tequila mixture into crumb mixture.
Shape into 1" balls and roll in granulated sugar.
Store in refrigerator.