Margaret Lee's Easy Beef Goulash
Prep 10 mins
Cook 1 hr 30 mins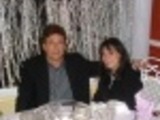 This is a recipe I got from my boyfriend's mother when I was 16! Every time she made it for dinner, I would find an excuse to hang around. I know it is overly simplistic, but it is comfort food to the max! I have made it in the slow cooker as well. After all these years, I still enjoy this every now and then.
Directions
In Dutch oven, melt shortening and brown meat. Stir in soup mix, tomato paste, and water. Simmer covered, 1-1/2 hours or until meat is tender. Serve over hot noodles.
Reviews
Most Helpful
I was hoping for more flavor...I thought the onion soup mix would add all the salt and beef flavor the dish would need...but I had to add salt and a beef bouillon cube along with paprika to get the over whelming tomato taste under control...a very good starter to an easy goulash...I serve ours over spaetzle...=)

I thought this was a little bit bland, so added in some minced fresh rosemary and garlic during the simmer. Added a healthy dash of worchestershire sauce to finish. Very simple recipe overall! Thanks for sharing!

Good and very easy. Just be sure to keep an eye on it if you make on the stove. I had it turned on low but it still burned to the bottom a little bit. Keep stirring.