ukichix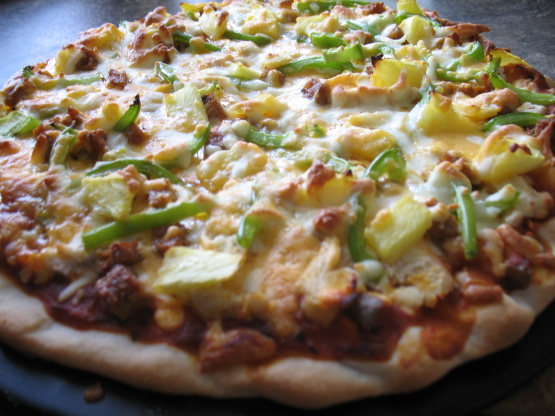 This recipe is influenced by it's namesake on the Boston Pizza menu. Being Gluten Intolerant, I scope out the Pizza menu's and duplicate them at home on my own crust! I love this one!
As the person who invented this pizza back in 1999, it is so very cool to see someone liking it enough to make this recipe. Originally I designed it with crumbled Italian sausage, not sliced. Most people preffered it that way, me included, but Boston pizza international had just decided to phase out crumbled sausage when they released the pizza. I also originally designed it with mozzarella cheese on the bottom and the cheddar was placed on top. The cheddar has a slightly different taste when crisping on top, and it helped to keep all the toppings on.and lastly, the chicken breast should be coated in Cajun seasoning ( you can do without of course, but the flavour works so well with everything else, especially the pineapple which tones down and balances all the spicy components.)
top crust in the following order.
Salsa (I prefer throwing the salsa in the blender and pureeing to a finer sauce).
1/2 of the cheddar and mozzarella.
chicken.
sausage.
pinapple.
green pepper.
remaining cheese.
bake in oven 450F 12-15 mins or until bubbly and brown.