2Bleu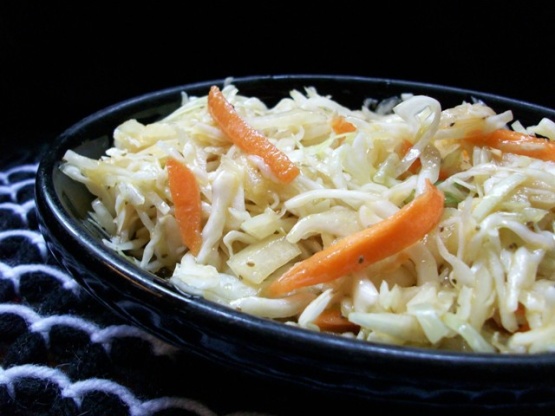 Great to take on a picnic or to a pot luck or to have in the comfort of your own home!

I'm up for Mardi Gras anytime of the year, & since I also like coleslaw, this recipe was just beckoning me! As with others who made this, we particularly enjoyed the inclusion of the caraway seeds! Definitely will be making this again ~ Thanks for sharing the recipe! [Tagged & made in Please Review My Recipe]
Toss both kinds of cabbage, the grated carrots and minced onion together in a large bowl.
Reserve.
In a small bowl whisk together the vinegar, sugar and mustard; season to taste with salt and pepper.
Slowly whisk in the oil to form a fairly thick and creamy dressing.
Taste and correct seasoning as necessary.
Pour half of the dressing over the vegetables in the bowl.
Sprinkle on the caraway seeds and toss well.
Taste; add additional dressing as you like.
Cover and refrigerate for up to 4 hrs.
Allow to return to room temperature before serving.