Chef Dee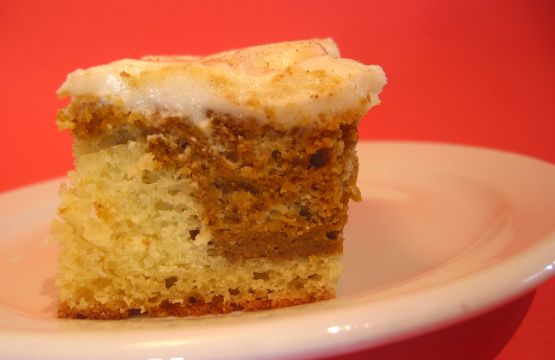 Very easy, Very moist, yummy Autumn dessert cake. Recipe came from a local booklet of recipe favorites.
This is getting 5 stars because it was fantastic even though I had problems. I thought it had fallen and decided to make a second dessert ... meanwhile this disappeared before the company arrived!
Combine pumpkin and cinnamon in a bowl.
Combine cake mix, eggs, sour cream, sugar, oil and water in a large bowl.
Beat for 2 minutes.
Stir 2 1/2 cups batter into pumpkin mixture.
Alternate plain and pumpkin batters into a 10 cup bundt or tube pan.
Once done swirl mixture.
Bake 375 degrees for 40- 45 minutes.
When cool sprinkle with powdered sugar.