Marbled Chocolate Tea Bread
Zaney1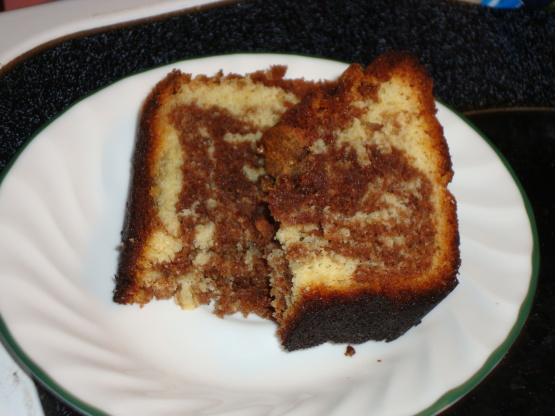 The Victorians were very fond of marbled cakes. The recipe is so called because the feathery swirls of chocolate that are revealed when it is sliced make a pattern similar to that of Italian marble.

Top Review by Zaney1
This had good flavor. It didn't bake up the best for me though. I used a glass loaf pan and it ended up getting burned on the sides and bottom. I didn't have self rising flour so I used all purpose and added salt and baking powder. I'm also not too sure how accurate my scale is so my weights on the sugar and flour may have been off. The middle of the loaf completely caved in. I was really disappointed but after I cut off the burned parts, it tasted really good. I may try it again using a metal loaf pan and self rising flour to see how much difference it makes. I'm giving it 4 starts for flavor b/c the rest of the problems I had are more than likely my own fault. LOL
Grease an 8" by 4" loaf tin and line the base and sides with greaseproof paper.
Cream the butter and sugar together until pale and fluffy, then gradually add the eggs, beating well after each addition.
Fold in the flour.
Transfer half the mixture to another bowl and beat in the orange zest, juice and orange extract, if using.
Break the chocolate into pieces, put into a small bowl and place over a pan of simmering water; stir until the chocolate melts.
Stir into the remaining cake mixture with the cocoa powder.
Put alternate spoonfuls of the two mixtures into the prepared tin, and use a knife to swirl through the mixture to make a marbled effect, then level the surface.
Bake at 350°F for about 1¼- 1½ hours, until well risen and firm to the touch.
Turn out onto a wire rack to cool.
Serve cut into slices.