Lvs2Cook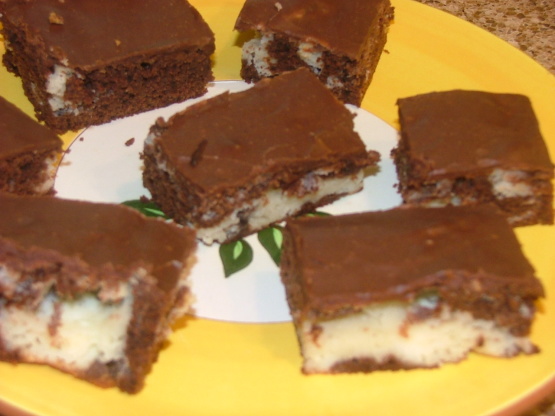 I have been making these for 25 years and they never fail to please! For the chocolate brownie, use ingredients listed on the back of the box of brownies. The original recipe came from a Duncan Hines cookbook.

Moist and delicious! Our daughter, Karen, made these for my Mother's Day dinner. A great treat. Thank you for posting.
For browines: Preheat oven to 350 degrees.
Soften cream cheese and butter; beat together.
Add sugar, eggs, flour, and vanilla; beat until smooth and set aside.
Mix cakelike brownies as directed on package.
Pour half the brownie mixture into a greased 13x9 pan; pour all the cream cheese mixture over the brownie layer.
Spoon remaining brownie batter in spots over the top.
Swirl the two mixtures together with a knife or spatula (don't get carried away here) Bake at 350 degrees for 35 to 40 minutes or until done.
Cool.
For frosting: Melt butter in a medium saucepan.
Stir in cocoa until dissolved.
Remove from heat.
Add confectioners sugar, milk and vanilla.
Stir until smooth.
Add more milk if needed for a soft spreading consistency.
Frost brownies.
Let sit until frosting is firm, then cut into squares.