Kim D.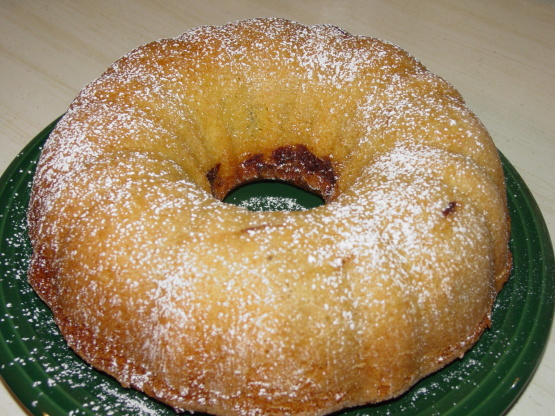 I found this recipe a few years back in a cookbook called Cucina Deliziosa Cookbook. It is a very moist cake, but not too sweet!

I too found this recipe in the Italian Cookbook mentioned. I have made it by mixing the fudge marble packet into the cake mix as well as swirling it. I like it better all together. It tastes like a chocolate cheesecake. Also, I serve it with fresh berries (frozen would work too) and real whipped cream. I also have reduced the sugar by half which has not affected the outcome.
Preheat oven to 350°F.
Combine all ingredients, except for the cocoa packet and the powdered sugar.
Beat well.
In a separate bowl, combine 1 cup of cake batter with cocoa packet.
Pour remaining yellow batter into a greased and floured Bundt pan.
Pour cocoa batter on top of yellow cake batter and swirl with a knife to get the "marble" look.
Bake for 1 hour and 10 minutes or until cake tests done.
Turn out of pan and cool.
Sprinkle top with powdered sugar.