Marble Mocha Cheesecake (Light)
Chilicat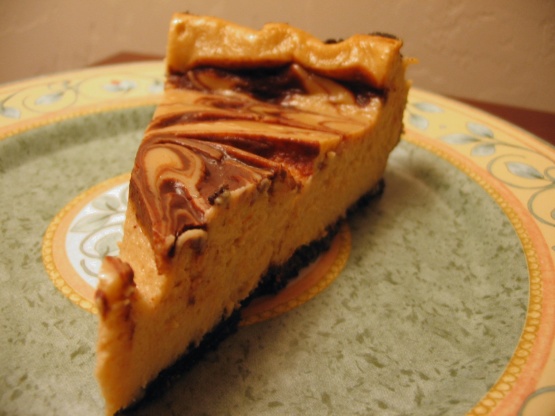 This light cheesecake is so delicious. Every time I have baked it, my friends couldn't believe it was light and couldn't wait to have a second--or third piece! Can't go wrong with a R. Reisman recipe!

This was very tasty, even more so because it's a "lite" recipe. I love the wonderful mocha flavor (I'm a java fiend and used espresso powder instead of instant coffee) and the swirls give each bite just a kiss of chocolate flavor. My cheesecake rose high on the sides, then collapsed as it cooled, and the swirl cuts spread apart for some reason. I'm not sure what I did wrong, but it still tasted great!
Preheat oven to 350°F Spray a 9-inch springform pan with cooking spray.
To make crust: in a bowl, stir together all crust ingredients. Press onto bottom and partway up side of prepared pan.
To make filling: in a food processor, purée all filling ingredients until smooth. Pour into crust.
To make marble: in a small microwave-safe bowl, heat chocolate with water on high in the microwave for 20 seconds. Stir until smooth. Drizzle over cheesecake; using a knife, marble the batter.
Bake in centre of oven for 40 to 45 minutes or just until centre of cheesecake is still slightly loose. Cool on a wire rack to room temperate. Refrigerate for 2 hours or until chilled.