Prep 15 mins
Cook 30 mins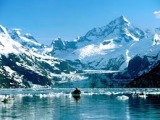 Maque choux is a stewed vegetable side dish. This recipe also includes okra. Don't be afraid of it! For a vegetarian version, just omit the bacon and use vegetable oil as your fat and substitute water or vegetable stock for the chicken stock. Adapted from an Emeril Lagasse recipe.
Directions
Heat a large, heavy pot over medium heat. Add the bacon and cook it until it is browned up and crispy, approximately 8 minutes. Transfer the bacon, with a slotted spoon, to a paper towel lined plate so it can drain.
Add butter and onions to the pot and cook until soft, approximately 5 minutes. Add the Creole seasoning and garlic and cook for about 30 seconds. Increase the heat to med-high and then add the okra, bay leaf, thyme, black pepper and cayenne. Stir to combine. Cook, stirring frequently, until the okra is crisp tender, approximately 5 minutes. Add the corn and cook, stirring, for about 2 minutes. Add the chicken stock and cook for 7-8 minutes, stirring once and a while. Add the tomatoes and cook for 2 more minutes. Last, add the salt and reserved bacon, stir to combine and serve!
Reviews
Most Helpful
Yum, this is so flavorful, and we enjoyed the kick created by the cajun seasoning and cayenne pepper. This was my first time cooking with okra, and it worked out quite well. This made generous portions; we are looking forward to the leftovers! Thanks for sharing. ZWT9

This was delicious! I really liked the blend of flavours (OK, bacon makes EVERYTHING taste better). I wasn't sure that the okra wouldn't come out slimy cooked this way, but I used baby frozen, and they held up well.