Mapo Dofu: Spicy Tofu With Meat Sauce (Szechwan Style)
Tumerica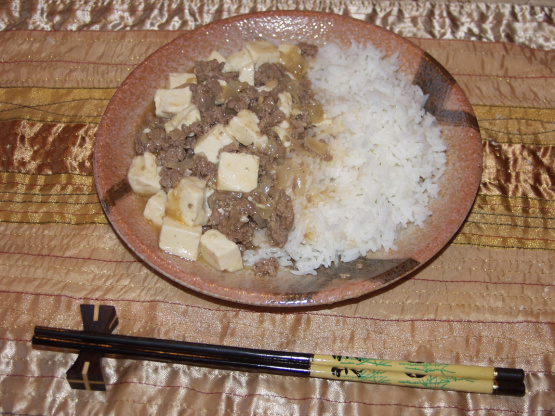 Ever wonder what to do with a package of tofu? Something delicious and different so that your guests will ask, "How did you make this? It's wonderful!" Think Chinese cooking is scary and mysterious? This simple and simply delightful recipe can change all that in one stroke. My family loves this and it's so easy, it gives me a break.

Mapo Dofu has been one of my favorite dishes for almost 10 years; whether I was having it in Chengdu or at my favorite restaurant near home, it's always been a treat. This recipe captures much of the exquisite flavor and texture that the traditional dish has. Yes, you can use turkey (as Tumerica did here) or pork (the Chinese favorite) or chicken. There is a vegetarian version that replaces the chicken stock with vegetable stock and uses mushrooms and sliced eggplant to preserve the right mouth feel: slippery, almost oily, with the heat of the chili paste. This version doesn't use sichuan peppers, which give it the unique taste that makes Sichuan cuisine sparkle. If you can get them, by all means add them to the recipe, as well as 1-2 fresh hot chiles. Otherwise, this is a really good introduction to Sichuan flavor and a little more unusual Chinese cuisine. Great flavor and easy to do -- thanks for posting!
29.58

ml sesame oil

29.58

ml cooking oil

1

chopped sweet onion (can also use green onions)

14.79

ml crushed garlic

453.59

g ground turkey (can also use ground beef, pork, chicken, lamb)

14.79

ml chili paste, to taste (we like Sriracha brand)

354.88

ml chicken stock

29.58-44.37

ml soy sauce (to taste)

29.58-44.37

ml sake (rice wine or other white wine)

14.79

ml minced gingerroot

2

(793.78 g) container silken tofu (drained and cut into cubes)

44.37

ml cornstarch
In a large sturdy frying pan (preferably a 12" one), saute the onions and the garlic in the oils until onions are somewhat tender (saute less if using green onions).
Add in the ground meat and chop it up with your spatula as you stir-fry. Continue until meat is no longer pink (takes only a few minutes--do not overcook!).
Add in ginger, chili paste (to taste--leave it out if cooking for a toddler), sake or other wine, soy sauce, and chicken stock. Bring to a boil, skimming off fat, if needed.
Add in the cubed tofu and stir gently, while trying to avoid breaking up the cubes. Cook only until tofu is coated and hot (not long!).
Stir the cornstarch into a few tablespoons of water--just to moisten--and add this mixture slowly to the meat and tofu--stirring constantly.
Scoop heaping portions of the mapo dofu over steamed white rice and let guests add in more chili paste, if they desire.