Eva E.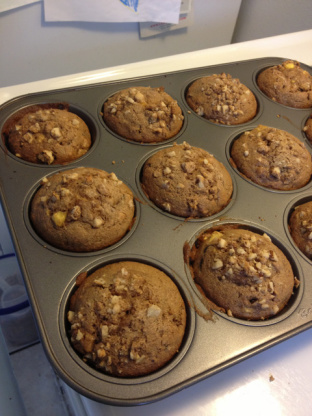 walnuts, nectarines, maple syrup, and whole wheat flour
Top Review by Eva E.
Delicious! A couple notes: <br/><br/>I didn't have peach extract (does anybody?) so I used lemon extract. I didn't taste it at all so I suspect that any extract - or no extract - would probably be fine. <br/><br/>My baking time was closer to 12-14 minutes. <br/><br/>Please note that the recipe calls for 2/3 C maple syrup - 1/3 for the walnuts and 1/3 in the batter. (The ingredients list 1/3 C twice which I assumed was an error, but it's not!) <br/><br/>Also, I almost poured all the chopped walnuts into the batter but thankfully read ahead and noticed I needed to reserve a third of the mixture (about 1/2 C) as the topping. I'm glad I caught that because it really made the final muffins look great! <br/><br/>Thanks for the great recipe!
Heat a dry skillet over med high heat. Combine walnuts and maple syrup in skillet and cook until the walnuts are carmelized. Chop and set aside.
In a medium bowl mix the white flour, wheat flour, soda, and salt, cinnamon, and nutmeg.
In a large bowl mix 3/4 cup brown sugar and oil. Add eggs one at a time until combined. Whisk in maple syrup and peach extract.
Add flour mixture and milk to sugar mixture, alternating until combined.
Add 1 c chopped walnuts and nectarine.
Pour into a greased muffin pan and top with remaining 1/2 c walnuts.
Cook at 400 degrees for 9-10 minute.