Maple Walnut Hot Cereal With Quinoa
loof751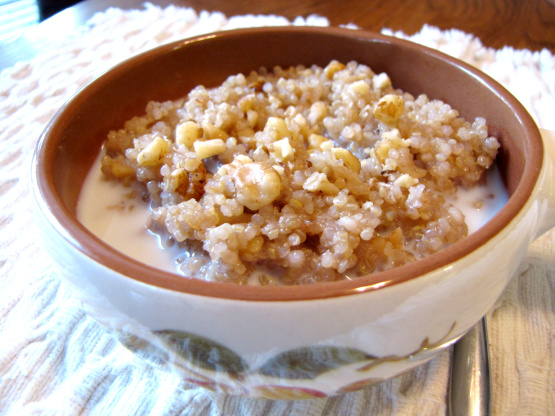 Who says you can't have it all? With the highest level of omega-3 fats compared to any other nut, walnuts are another superfood that makes this classic combination a smart start to your day. From Quinoa 365.

Another excellent quinoa cereal of yours! Usually I prefer it with some fruit in it, but this was great as is. Topped it with home made vanilla yoghurt and felt like having dessert for breakfast! Thanks for posting!
Made for Healthy Hearts Find The Tags / Diabetic Forum.
Rinse quinoa well with water to remove bitter coating; drain.
Place walnuts in a small saucepan on medium-high heat. Stir frequently until the walnuts are toasted and fragrant, about 3-4 minutes. Remove the pan from the heat and let walnuts cool slightly. Chop and set aside.
Combine quinoa, water, and oat bran in a medium saucepan. Cover and bring to a boil; reduce to a simmer and cook for 12 minutes. Leave the saucepan on the burner, covered, for an additional 6 minutes. Remove from the heat and stir in the walnuts and maple syrup. Transfer to a bowl and top with milk, yogurt, or cream, if using.