Redsie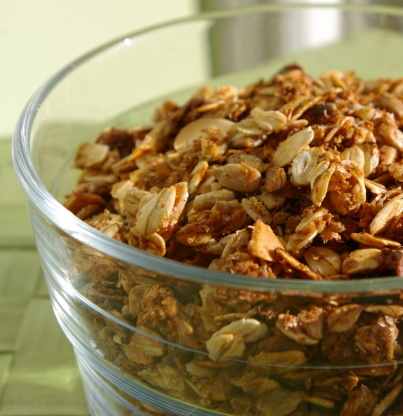 A friend brought this out for our kids to snack on while we chatted but I could not stop eating it by handfuls myself. I like the simplicity of it.

easy to make, Great flavor.I added sunflower seeds,pecans and walnuts,I use it with plain unflavored no fat greek yogurt. i also added dried cranberries and blueberries. thank you for a healthy recipe.
Heat oven to 325 degrees.
Combine oats, walnuts, cinnamon, nutmeg, and salt together in a large bowl.
In a separate bowl,mix maple syrup, vanilla, and oil.
Pour syrup mixture over oat mixture and combine until all ingredients are well incorporated.
Spread mixture onto parchment paper lined baking sheet and bake 15 minutes.
Stir and return to the oven 10 minutes longer.
Remove from oven and allow to cool completely.
Granola may be stored up to 2 weeks in an airtight container.