Maple Walnut Cream Squares
Dorel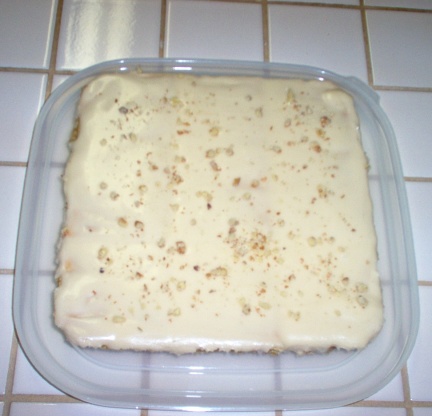 I have made these for church fellowship gatherings and they always go over very well. This is a no bake recipe. The cook time is the 5 minutes cooking on top of the stove.
Line an 8 inch square pan with foil.
Place 10 wafers in a single layer in bottom of pan, cutting to fit. Save other 10 for top
Set aside.
Crush another 10 wafers for filling. Or use about 3/4 cup graham cracker crumbs
In saucepan, mix brown sugar, butter, milk and syrup.
Bring to boil and simmer 5 minutes, stirring constantly.
Remove from heat.
Stir in crushed wafers, coconut and walnuts.
Spread over wafers in pan.
Top with remaining wafers, cutting to fit.
FROSTING.
Mix all frosting ingredients until smooth.
Spread over top while warm.
Sprinkle with additional nuts if desired.
Refrigerate until firm.