chiclet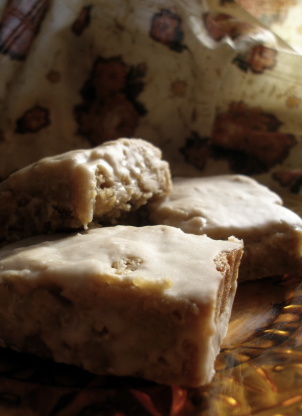 I like maple syrup. And walnuts. Brownies too. I REALLY like these Maple Walnut Brownies from the King Arthur Flour Baker's Catalogue. These dense, chewy bars are a nice change of pace from the usual pumpkin- and apple-based fall desserts.

This review is without glaze...because I grabbed a corner bite before mixing any and it's plenty sweet without! Glad I tried it before proceeding! I didn't have the maple flavoring but my pure local maple syrup is outstanding and the recipe turned out great with that alone! I think I'll back off on the brown sugar and try it with the glaze next time though. I tried this because of soon-to-expire walnuts...and I made it with my gluten-free flour blend I like to use with 'nutty' recipes - it includes a little almond flour - and this came out beautifully! I'll struggle in the morning to not eat it for breakfast! NICE change of pace! I can't believe this hasn't been reviewed WAY before now!
Preheat oven to 350°F Lightly grease an 8" square pan.
Whisk together flour, salt, and baking powder; set aside.
Melt butter and brown sugar together in the microwave or over a burner; remove from heat and stir in the syrup. Allow the mixture to cool to lukewarm (I let it sit for about an hour).
Stir in the eggs one at a time, then the maple flavor.
Stir in the dry ingredients, and finally the walnuts.
Pour into prepared pan, and bake 25 minutes, just until the edges pull away from the sides of the pan. Remove from oven and cool before cutting and glazing.
To make the glaze: Whisk all three ingredients together, adding more liquid if necessary to make a pourable glaze.