Maple Thyme Mustard Salmon

Salmon married with a mixture of fresh thyme, maple and tangy Dijon mustard. Serve this dish over greens or accompanied by rice. This dish is very easy to make and impressive enough for company. Source: Longo's Experience Magazine
Directions
In a shallow glass dish, whisk maple syrup, mustard, thyme, garlic and pepper together.
Place salmon fillets in dish and turn to coat.
Cover and refrigerate for at least 30 minutes or up to 8 hours.
Place salmon on parchment paper lined baking sheet and spoon some of remaining marinade over top.
Roast in 425F oven for about 15 minutes or until fish flakes when tested with fork.
In large bowl, toss spinach with oil, salt & pepper (if using), and divide among 4 plates.
Top with salmon and serve.
Reviews
Most Helpful
One of the easiest recipes. The result is beyond all expectations. Thank you for sharing :)

This is a delightful salmon recipe. My family enjoyed the flavor very much. The directions lead you to perfetly done salmon in a matter of minutes! Thank you for a great salmon recipe!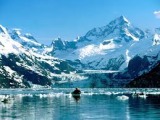 I cut this recipe in half for just the 2 of us &, taking the cue from other reviewers, I jacked up the amount of mustard! Also seasoned it with lemon pepper instead of the usual S&P! We eat salmon 4-5 times a month around here, & this is a wonderful addition to what I've been making! Thanks for sharing the recipe! [Tagged & made in Please Review My Recipe]