Maple Syrup Upside-Down Cake
Boomette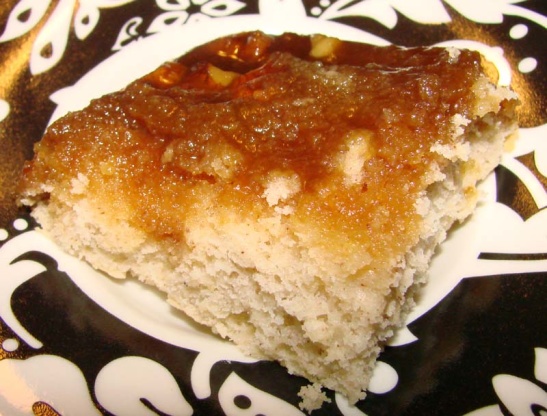 This cake combines the traditional tastes and textures of an upside-down cake with the wonderful flavor of maple. I found this great recipe on-line when I was searching for recipes using pure maple suryp. Enjoy.

It was good, but it could be quite a bit better with a few changes. I think it needs some maple in the batter. Not a lot, just enough so that it carries over the flaver of the dish. I can taste the baking powder in the cake. I'm not sure if there is a way to get around that, or if there could be just a little less in the batter. So those are the changes I would mess around with if/when I make it agian. And mine I was done in 25 minutes (my ovens goofy somedays >.>) so keep an eye on it while it's cooking until you find out what works with your oven.
Preheat oven to 350 degrees.
Measure butter, sugar, and egg into a bowl, and beat with a wooden spoon or electric mixer until creamy.
Mix flour, baking powder, salt, and cinnamon (or nutmeg) together. Add the dry ingredients and the milk, a little at a time and alternating between the two, to the creamed butter mixture. Stir until well blended.
Measure syrup into a small saucepan. Heat the syrup until it boils, and pour into a generously buttered 8-inch square baking pan. If using chopped walnuts, add them to the hot syrup.
Scoop up the dough in four large balls and drop them into the hot maple syrup. Using two forks, stretch dough balls to the edges until the dough forms one large mass. Bake at 350 degrees for 30 minutes.
Serve warm with ice cream or whipped topping if desired.