Maple Syrup Roasted Pumpkin With Pecans
Annacia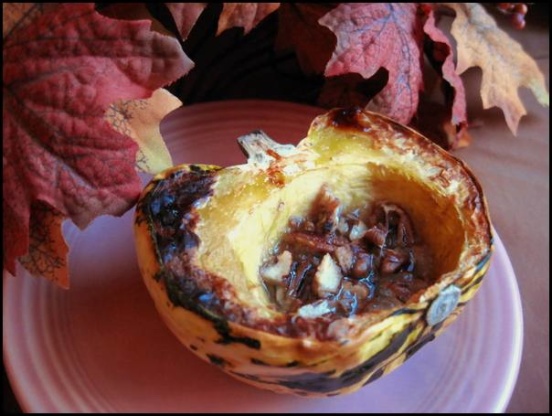 From super food ideas - looks like a tasty vegetarian side. I would use sugar free maple syrup for diabetic reasons.

Top Review by Tisme
We loved this Pat, sweet and savoury and YUMMY!
I followed as written but was out of sour cream, but will be trying it again with the cream.
I love the fact you can leave the skin on......I hate removing the skin on pumkins!
DS usually won't eat the pumpkin, but he did this one.....not too mention is a nut freak, so it did not take much persuading him to try it! He loved it also.
Thanks Pat, enjoyed by all here!
Preheat oven to 210C (190C fan forced).
Lightly grease a large roasting pan.
Add pumpkin to pan and season with salt and pepper and drizzle with oil and half the syrup and roast for 20 minutes or until jut tender and lightly browned.
Combine pecans and remaining syrup in a bowl.
Add pecan mixture to pumpkin mixture and roast for 10 minutes or until pumpkin is tender.
Serve with the sour cream.
TIP - you could add 1 teaspoon fresh thyme leaves with the oil in step 3.