MsSally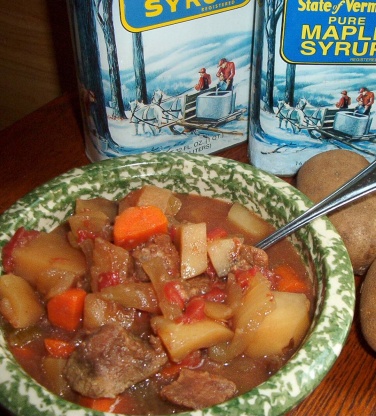 Maple Season is apon us! I got this from a local paper called the Seaway News, March 23rd edition from the Carol Kloos Country Cooking Corner

My husband could not stop eating this. I really loved it too. Thanks
Combine flour and seasonings in a plastic bag.
Add beef and shake to coat.
In a large stew pot (or Dutch oven) brown meat in hot oil.
Add tomatoes, onions, water, wine and maple syrup.
Bring to a boil.
Cover, simmer over low heat for 1 - 1 1/2 hrs or until meat is tender.
Add potatoes, carrots and celery and continue cooking 45-60 mins or until veggies are tender.
If desired, thicken stew with 2 tbs flour blended into 1/4 cup cold water.