Kaarin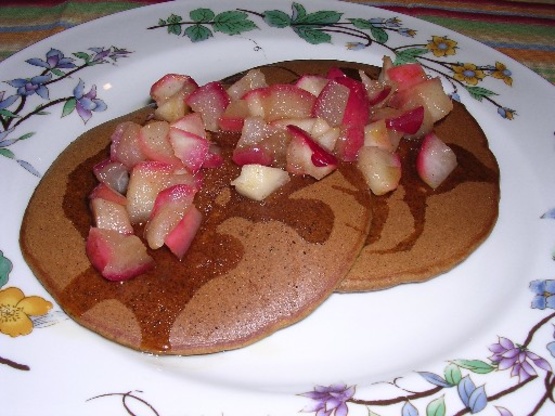 Great topper for pancakes, waffles or hot cereal, but equally good as a side dish on its own.
Top Review by PaulaG
I used a combination of granny smith and gala apples. The dish is easy to prepare and makes a wonderful addition to pancakes or waffles. I used the raisins as suggested and think they would be equally good with dried cranberries. I may try these again over frozen vanilla yogurt.
Peel apple or if preferred leave peel on.
Cut apples into quarters and remove the core.
Slice the quarters into 1/8 inch thick slices the long way, then cut each slice into inch wide slices.
Combine apple, syrup, cinnamon and water in small saucepan.
Cook over medium low heat, stirring occasionally until apple is tender.
If mixture gets too dry before apple get tender all a bit more water.
Serve warm.
(If desired add 2 tbs raisins per apple to the mixture when you begin cooking and increase the water to ¼ cup).