Maple Squished Sweet Potato Bake W/ Spiced Pecan Streusel
Elmotoo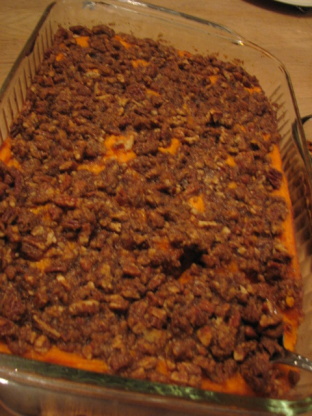 I have no idea where I found this recipe, but I'm adding to our Thanksgiving menu this year.

This recipe is simply outstanding! This is similar to the recipe #80593 that my family has been making for as long as I can remember but we all decided we like this one better! What really *makes* this recipe is the spices in the topping. I made exactly to the recipe except that instead of boiling the sweet potatoes, I cut them into about 3/4-inch chunks, drizzled on a tiny bit of olive oil, and roasted them at 400 deg. F for 45 minutes. Made this for a Thanksgiving potluck and my family requested that I make it again Thursday for T-giving day. I'm also printing out a copy for someone else that was at the potluck. Thanks so much for the recipe bayou-mimi!
Preheat oven to 350 degrees.
Grease a 9-by- 13-inch baking dish; set aside.
In a large pot of water, bring sweet potatoes to a boil.
Reduce the heat and simmer 25 to 30 minutes until tender.
Drain well.
Transfer potatoes to a mixer and add butter and salt.
Mix until butter is melted.
In succession, add milk, syrup and beaten eggs, beating potatoes between additions and scraping down sides of bowl.
Mix potatoes until smooth.
Transfer potato mixture into the reserved baking dish and smooth the top.
To make the topping: In a small bowl, mix butter, brown sugar, flour, pecans, cloves, cinnamon, nutmeg and salt well, then sprinkle evenly over potatoes.
Bake, uncovered, in preheated oven for about 25 to 30 minutes, until potatoes are hot through and streusel is toasted and crunchy.