Cathy17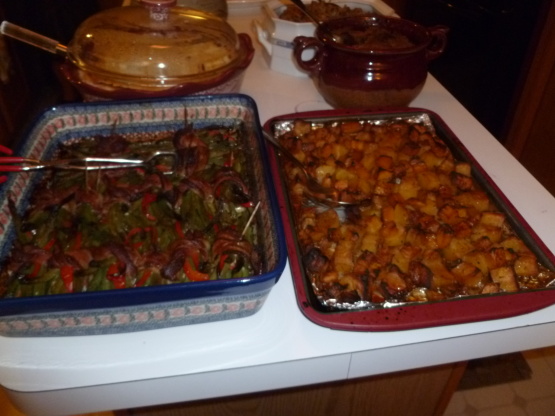 Roast wholesome squash in larger chunks with maple syrup for Easter dinner or with chicken at any time. Goes beautifully with CORNISH HENS, ORIENTAL/CURRIED and Bok Choy. For additional servings, increase recipe for squash, maple syrup and seasonings logically.

Delicious!!!!! Used butternut squash, substituted the olive oil with melted butter, this is a great vegetable dish! Definitely a keeper!!! — posted Mar 25, 2004,1 member found this helpful Sept 19/04 UPDATE! Today I made this again.I used sweet potatoes instead of squash. WOW!!!!! IT WAS SO GOOD, the taste of maple syrup and butter together is yummy!! I microwaved the pieces of sweet potatoes 5 minutes, then put them in the baking dish with the syrup,butter,salt and thyme,then I basted the potatoes with the sauce a few times - the result was perfectly cooked, beautifully glazed sweet potatoes!! Thanks Toolie for a great recipe!!
Preheat oven to 400F (200C).
Line a baking sheet with foil, then lightly brush or spray with oil.
You may have to cut the pieces into chunks no bigger than 1 inch (2. 5cm) wide.
In a medium-size bowl, stir oil with maple syrup, thyme and salt.
Add squash and toss until evenly coated.
Spread out on baking sheet.
Scrape maple mixture from bottom of bowl evenly over squash.
Roast squash, 25 to 30 minutes, uncovered, in centre of preheated oven, until tender and bottom edges are golden.
To ensure a rich, dark-golden glaze on top of squash, do not turn squash pieces over or stir during roasting.
Remove from oven and serve immediately.