Maple Splurge Ice Cream Sauce
Pamela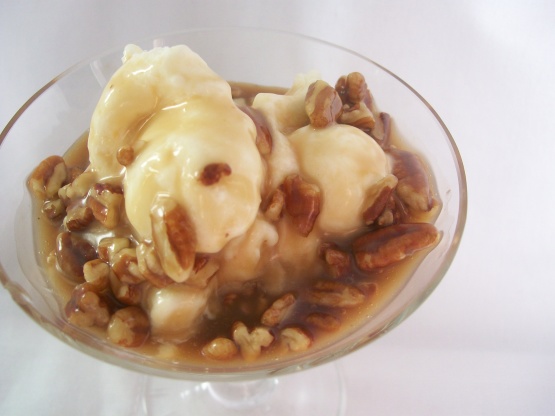 A diet breaker for sure! Serve with high quality vanilla or coffee ice cream. This topping is a real gourmet treat that is pourable right from the fridge. Created for RSC #10.

This is a very good ice cream sauce. I had some trouble getting to that soft ball stage. I think it took at least 7 minutes. And my final product came out a little thinner than I would have liked. I especially like that I can use it straight from the fridge.
First, fill a glass with ice water and place close to stove.
Combine syrup, brown sugar, water, butter and Kahlua in a medium sauce pan and bring to a boil over medium high heat, stirring occasionally.
Turn down heat to medium and stir constantly for 6-7 minutes while mixture boils and until it begins to get thick.
Place a drop or two of the mixture into the cup of ice water and then pick it up with your fingers. It should be able to be shaped into a soft ball.
Remove from heat.
Cool slightly, about 5 minutes, and then whisk in the whip cream, vanilla, and pecans until they are well blended. For a thicker sauce use slightly less whipping cream.
Pour into a container, a glass jar is best, and refrigerate until serving, preferably overnight.
For a more boozy version, add Kahlua with the whip cream, vanilla, and pecans.