Maple Spiced Nuts from King Arthur Flour
alligirl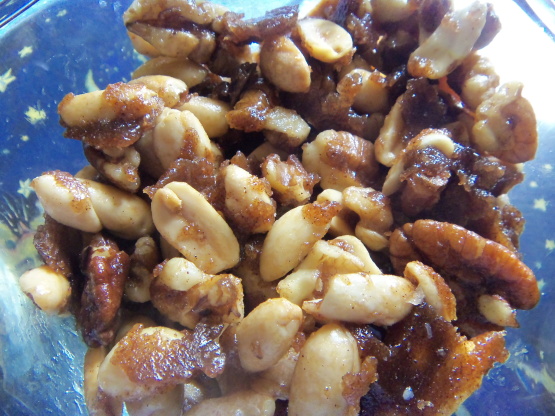 Another KAF winner. We love spiced nuts with that sweet, spicy flavor and this has it all. they also said to enhance the flavor of the nuts, you can toast them on the baking sheet for 7-9 minutes after you've transferred them from the pan.

I reduced this recipe by half, and I'm so sorry. If I'd made the whole thing, I'd have some left right now! LOL These were tasty, even though mine weren't very 'pretty.' I think baking them for a bit would help that, so I'll try it next time. Can't beat the flavor though - thanks for sharing, Bonnie G #2!
In large skillet over medium high heat, melt butter and add nuts.
Cook, stirring occasionally for 3-4 minutes, until nuts are fragrant and beginning to toast.
Add remaining ingredients, stirring until sugar begins to melt.
Lower heat to medium and cook for another 3-4 minutes, until nuts are nicely caramelized around the outside.
Transfer nuts to a parchment lined baking sheet to cool, stirring periodically so they don't clump.