lets.eat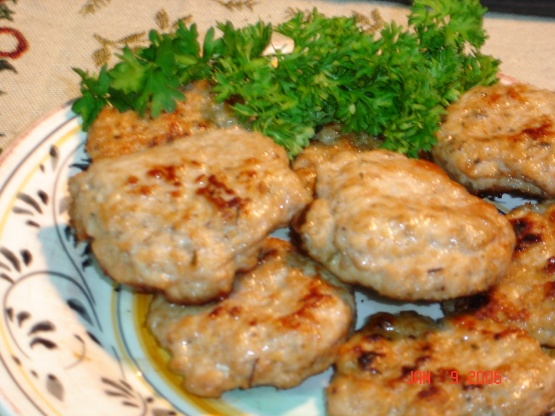 This recipe hails from Light & Tasty. The Contributors' name is Margaret Ford from S.D. I did not make changes to her recipe ingredients-only the prep-cook, which worked well for us. To be aware the Maple syrup taste did not shine through-and I only used 1 tsp. of the smoke additive and to us it was prononouced enough. My DH really liked this, since regular sausage upsets his stomach
In a large bowl, or a zipper storage bag combine all of the ingredients.
Shape into 8- 2-1/2 inch patties and place on a plate and cover with plastic wrap, refrigerate for at least 1 hour.
In a large skillet add a little water, around 1/4",(not alot) Add sausage patties and bring to a boil (cover) and steam until water evaporates. Flip the patties, add more water-around 1/4 inch and have it steam again (covered again). When water has evaporated add just a little oil and brown the patties, uncovered. Flip the patties. Add additional oil and cook for just a little bit more, uncovered yet again.
Check the temperature of the patties and make sure it registers 160'.
Eat as is or topped with syrup.