Maple Roasted Root Vegetables
Lusenda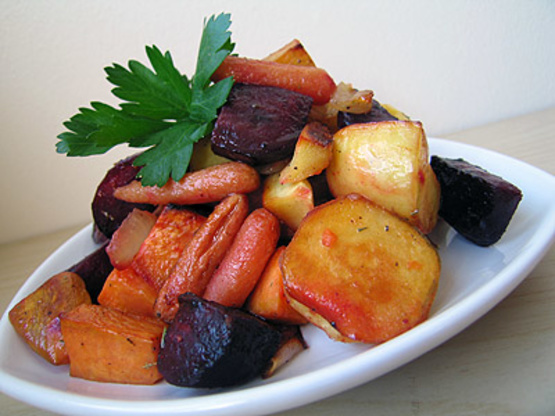 The roasting makes these veggies extra sweet and even people who don't like beets or parsnips usually love this dish. You might want to line the baking sheets with parchment or use a Silpat mat.

Oh my yum! This was so good! I have been looking for a way to roast vegetables successfully (mine always dry out or burn on the pan) but this worked beautifully! I used parchment under my vegs (onion, potatoes, sweet potatoes, and carrots). The only thing I would change is to reduce the olive oil a little bit - maybe switch the amounts of olive oil and maple syrup. I can't wait to make this again trying turnip and parsnip!
Preheat the oven to 400.
Place the cut root vegetables in a single layer on one or two large baking sheets.
Stir together the oil, maple syrup and garlic cloves and drizzle over the vegetables.
Stir to combine the oil with the veggies and then spread once again in a single layer on the baking sheet.
Season with salt and pepper.
Bake for about 1 hour until the vegetables are done and a little caramelized from the syrup.
Serve immediately.