Maple Roasted Pork Tenderloin
GaylaJ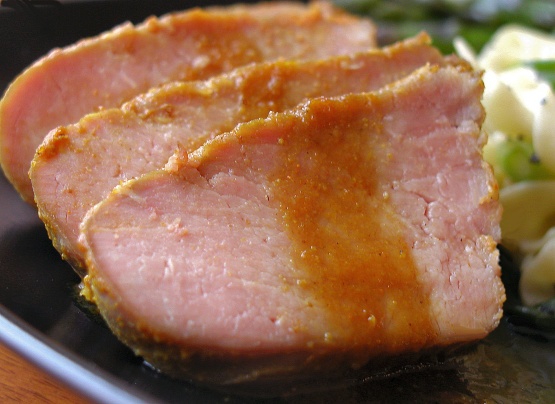 A deliciously sweet pork tenderloin. Do NOT substitute pancake syrup -- this needs real maple syrup. From "Crazy Plates".

This was fantastic! I made it for dinner tonight and it was met with rave reviews! I didn't have orange zest on hand and since I was in no mood to run to the market, I just left it out... didn't miss it. Thanks so much for a great recipe! I'm adding it to the rotation!
Trim pork of all visible fat.
Whisk together all remaining ingredients; pour over pork and marinate in refrigerator for 1 hour.
Put pork and marinade it a small roasting pan or baking dish.
Roast uncovered for 40 minutes at 350 F.
Pork should still be slightly pink in the middle.
Let pork stand for 10 minutes (it will continue to cook).
Cut into thin slices.
Drizzle sauce over pork.
Serve.