Maple-Roasted Acorn Squash
PaulaG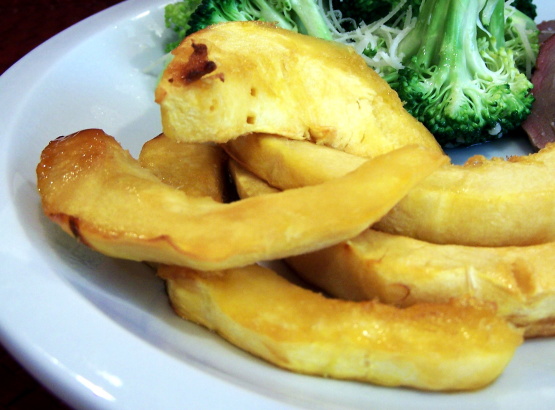 From Cooking Light. Serving size: about 1 cup. Per serving: 170 calories, 3.7 g fat, 4.4 g protein, 34.6 g carb, 4.9 g fiber, 0 mg cholesterol.
Top Review by PaulaG
This was served with recipe #107643 and the flavors complimented each other nicely. Instead of using 2 tablespoons olive oil, I opted to use the mister and sprayed the squash with the oil and then the syrup was drizzled over all. The timing is perfect.
Cut each squash in half lengthwise.
Discard seeds and membranes.
Cut each half crosswise into 1-inch thick slices; peel.
In a large bowl, mix together the syrup, oil, salt, and pepper; stir well.
Add squash; toss to coat.
Put squash in a 13x9 inch baking dish that has been coated with cooking spray.
Bake in a 425° oven for 25 minutes or until tender, stirring every 10 minutes.