Maple-Raisin Oatmeal a La Mexico!
Annacia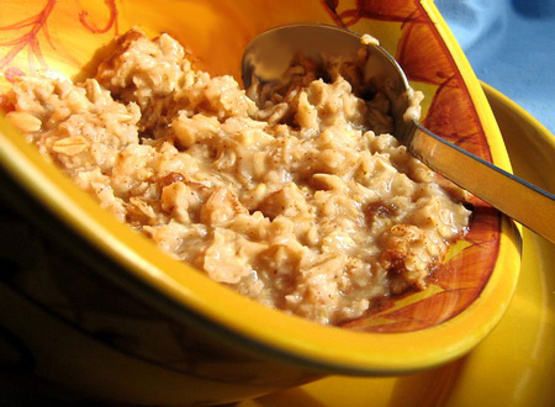 A sweet, spiced oatmeal that will undoubtedly please on a cold morning. From Vegetarian Times.

I liked this, but based on the other reviews I did tweak it a little. I soaked overnight 1/2 c oats, 1/2 c water, & 1/4 c raisins. In the morning I added 1 T maple syrup (1/8 c just looked like too much), 1/8 c Recipe # 295198, 1/4 tsp cinnamon, & 1/4 tsp. ginger. I thought it was great! Reviewed for Healthy Choices ABC Tag.
Soak oats overnight in the water if you want the oatmeal to be really nice & creamy.
Bring all ingredients to a boil in a small saucepan.
Reduce heat and simmer till thick and creamy- this doesn't take long.
Add more milk or water and cook longer if it isn't creamy enough for your taste.
Serve immediately.
Add any favorite nuts to each bowl if you like- I loved chopped almonds.