Pneuma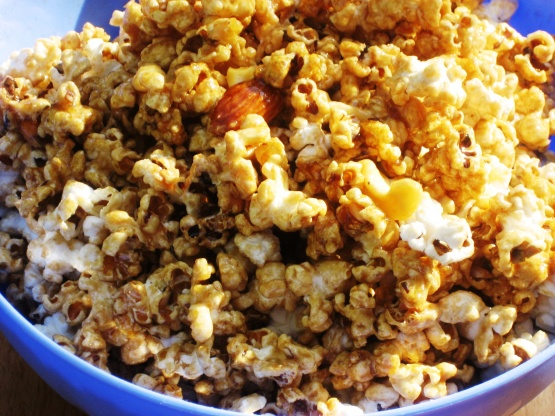 This is from the issue of April 2007 of Coup de Pouce. This gives a lot of popcorn. But it's good up to 1 week at room temperature.
10

cups plain popped popcorn (around 1/2 cup of unpopped popcorn)
1 1⁄2 cups pecans, cut in half on the length
1 1⁄3 cups sugar

1

cup butter
1⁄4 cup maple syrup
1⁄4 cup corn syrup
1⁄4 teaspoon salt

1

teaspoon maple extract
In a greased large roasting pan not too deep, mix popped popcorn and pecans. Set aside.
In a large saucepan with thick bottom, mix sugar, butter, maple syrup, corn syrup and salt. Bring to boil at medium heat. Let simmer, always stirring, 10 to 12 minutes or until a candy thermometer reaches 300 F (149 C). Remove from the heat. Add maple extract and stir. Pour the mixture on the plain popped popcorn and stir to coat well. Let cool. Break off and it's ready. (you can do this in advance and put it in an hermetic container. It will be good up to 1 week at room temperature.