AmyZoe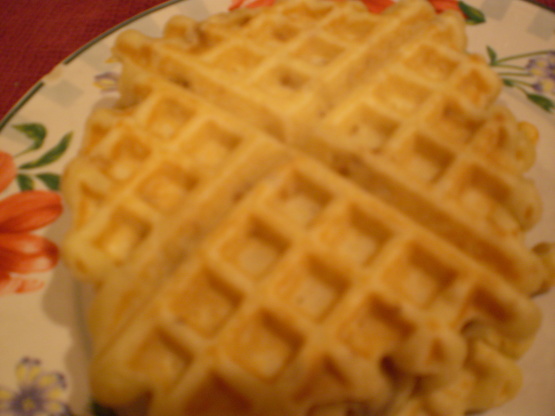 This is a nice light and fluffy waffle--great for overnight guests. Or, make it for dessert and top it with fresh fruit and whipped cream. I found this in My Great Recipes. I didn't have any pecans so I substituted walnuts. For the maple flavoring I threw in a few squirts of maple syrup. If you have any left (might want to double the recipe), wrap in plastic and freeze. To reheat, just put the frozen waffle in the toaster (move over L'eggo My Ego).
Preheat waffle iron.
Sift flour with baking powder and salt.
In mixing bowl, beat egg yolks, milk, and oil until combined.
Gradually add flour mixture, beating after each addition and beat only until smooth.
Beat egg whites until stiff peaks form.
Fold whites into batter.
Stir in pecans and maple extract.
For each waffle, pour 1/2 cup batter into center of waffle iron or until it spreads to 1 inch from edges.
Cook until waffle iron stops steaming.
Waffle should be crisp and golden.
Serve hot with warmed maple syrup and melted butter and sliced strawberries.