Maple-Pecan Praline Topped French Toast Bread Pudding
Lelandra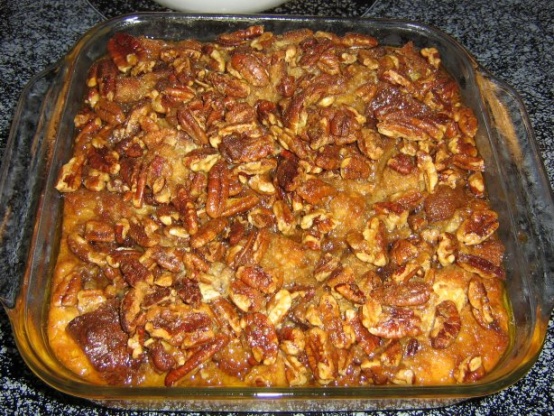 Whenever I make a loaf of gluten free bread, I can't seem to eat all of it before it goes stale or moldy. While I could slice and freeze half, I prefer to use it for bread pudding, stuffing, meatloaf, etc. This is an excellent use for bread that is too hard and stale to eat. I would not make it from fresh squishy bread, as I think it would probably dissolve in the egg custard. The original recipe, Debbie Tate's "Make Ahead French Toast" at allrecipes, suggests 8 slices of French bread. I would assume that sourdough, old hard sandwich rolls, etc. would also work beautifully. This morning I used the last quarter loaf of bread made from Bob's Red Mill GF Homemade Wonderful Bread Mix. I would be happy to serve this for company, or Christmas morning. It is *extremely* rich - most people will be too full to finish off two helpings.

A friend made this for a church function and it was fabulous! My daughter is getting married in 2 weeks and I cannot wait to make it for the crowd gathering the day after her wedding! It does seem like a dessert breakfast, but in my opinion there is never a bad time for a dessert! :)
The night before you want to eat this, grease a baking dish. I use a 9x9 glass baking pan (2 qt) so that the resulting product will be coffee cake height. If you use a 9x13 pan, you won't need to bake it on a cookie sheet to catch drippings (or clean the oven afterwards), but will have a flatter casserole. Cube the bread and spread it evenly in the pan. In a medium bowl, whisk together the custard (eggs, milk, half-and-half and vanilla). Pour over the bread cubes, cover with plastic wrap and refrigerate overnight/8 hours.
The next morning, preheat the oven to 350 degrees F (175 degrees C). In a small bowl (I use the pyrex 4-cup measuring cup I used to melt the butter in the microwave), combine the topping ingredients (melted butter, brown sugar, syrup and pecans). Spoon topping over bread and custard mixture. In the 9x9 pan, it will cover the custard completely.
Bake in preheated oven until golden, about 40 minutes. Bake it on top of a cookie sheet if you are using a 9x9 pan or you will have melted butter spattered all over the bottom of your oven afterwards.
When you take it out of the oven, the butter will still be bubbling. Let it rest at least 5 minutes, and it will be reabsorbed into the casserole, and you will have a nice crunchy topped casserole that holds together when cut into.