Maple Pecan Apple Stuffed Brie
teresas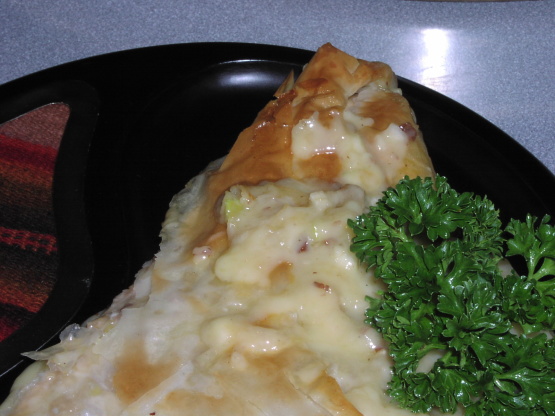 A perfect appetizer for a small group. Oh so good for a special occasion or if you just want to pamper your partner.

5 stars even though we messed up. :( The flavor is awesome. But we decided to us a triangle shaped brie. Well , when it started to leak through we realized that the round had a brine covering the whole brie. Don't make that mistake. Otherwise this was excellent. We enjoyed the smoothness of the cheese with the crisp outer crust of the dough. The apple and pecan mixture just added a nice touch of sweetness to the overall dish. Thanks for posting. :)
Preheat oven to 400°F.
Mix apple and pecans in bowl.
Stir in maple syrup.
Set aside.
Brush 1 phyllo sheet lightly with melted butter.
Top with remaining 3 phyllo sheets, brushing each layer with butter.
Cut 10 inch circle from stack.
Cut cheese wheel in half horizontally.
Place 1 cheese half in centre of phyllo stack; top with half of the apple mixture. Top with second cheese half and remaining apple-nut mixture.
Wrap phyllo around cheese, folding phyllo as needed to completely enclose cheese.
Brush with remaining butter.
Place on baking sheet or pie plate.
Bake 15 min or until golden brown.
Serve immediately with crackers or apple slices.