Maple Pear Deep-Dish Pancake
Prep 20 mins
Cook 1 hr 15 mins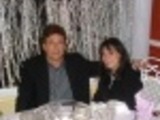 An even richer version of this luscious treat! This smells unbelievable baking in the oven. Prep times does not include standing or cooling time.
Directions
Toss pears, syrup, and lemon zest together in medium bowl. Let stand, stirring occasionally, 45 minutes.
Heat oven to 350 degrees. Butter wide round 1-1/2-quart baking dish.
Place milk, sour cream, eggs, vanilla, flour, sugar, and salt in blender or food processor and process just until blended, about 1 minute.
Pour enough batter into prepared baking dish to measure 1/4 inch. Bake until slightly firm, 12-15 minutes.
Remove pear slices from syrup with slotted spoon; reserve syrup. Arrange slices closely together on baked batter and sprinkle with almonds. Cover with remaining batter. Spoon reserved syrup evenly over top.
Bake until wooden pick inserted in center of pancake comes out clean, about 1 hour. Let pancake cool on wire rack 30 minutes. Serve warm, with cream.
Reviews
Most Helpful
This cake cooks for a long time, but it is so simple to make it is worth it. It is not overly sweet, but I would save it for dessert.
This dish feels like a dessert in a fancy restaraunt. I love the texture. Next time, I am going to try leaving out the lemon and replacing it with cinnamon. I think that would be a nice twist. I put ice cream on top instead of cream. Loved it!
Delicious! I made this in a souffle dish and it puffed up nicely to the top of the dish...it looked quite impressive. This is a wonderful breakfast dish, especially when you have special guests. Made as written but did not serve with the heavy cream. This recipe is perfect as is but I also like katew's suggestion to add some almond extract. Yum! Made for 1-2-3 Hits.