Kree6528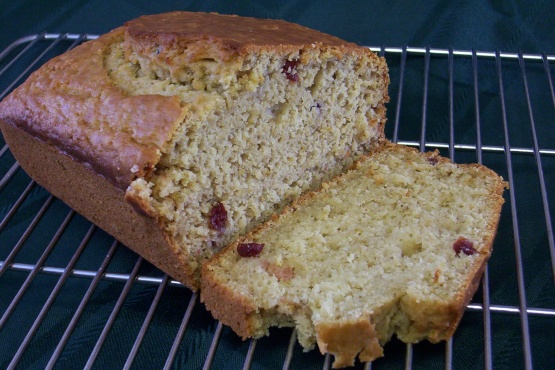 This bread has a subtle but very delicious flavor. It's very moist and makes a perfect breakfast with coffee or tea. I've made it with the dried cranberries, and I think it would have a great texture with the pecans! It's from The First Year by Heather Van Vorous.

My family went crazy over this bread! I used skim milk I had reconstituted from dry and a tad more maple syrup because I was trying to use it up. I left out the craisins and nuts because I had none. Made it at night for breakfast in the morning and by the time I got up most of it was gone!
Preheat oven to 350°F Lightly spray a 9x5 loaf pan with cooking oil.
Combine the soy milk and vinegar (or lemon juice) and allow to sour for about 10 minutes.
In a large bowl, sift the flour, baking powder, baking soda, and salt. Whisk together until blended.
In a medium bowl whisk the egg whites with the oil until smooth. Whisk in the maple syrup, brown sugar, and soured soy milk. Stir in the oats. Add pecans or dried cranberries, if using.
Add wet ingredients to dry and stir with a wooden spoon until just combined.
Pour into pan, smooth top, and bake until golden brown and a tester inserted into center of loaf comes out clean, about 1 hour.
Cool on rack in pan for 10 minutes, then turn out of pan onto rack and cool completely before slicing.
This bread freezes beautifully!