Maple & Mustard Glazed Salmon (3 Ingredients)
French Tart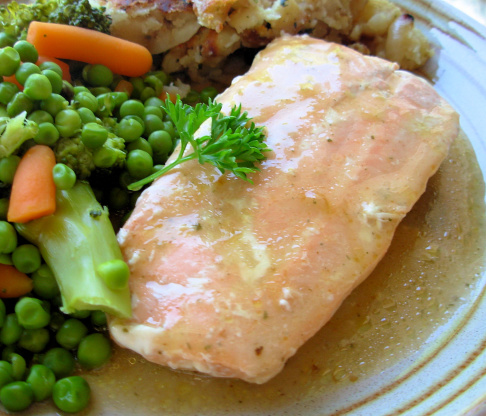 This dish is to die for. Serve with baby potato, asparagus, fresh steamed greens or a salad. A simple dish for a dinner party or to enjoy anyday. This dish is very simple and is best made with a good pure maple syrp -this will give you a superior flavour!Use pure maple syrup and ensure your mustard is gluten free if your diet requires

Absolutely loved it! I baked in the oven at 425 for about 10 minutes and it was perfect.
Preheat grill to high.
Mix together the mustard and maple syrup.
Place the salmon fillets (skin side down) in a baking dish or on a shallow tray that has been lined with aluminium foil.
Spread the mustard and maple mixture evenly over the tops of the salmon fillets.
Grill/Broil for 10 minutes or until cooked thru. The time taken will depend on the size of the fish.
Serve with veges or a salad - Enjoy!
Note: its best if your fillets are as evenly sized as possible.