Chef Dee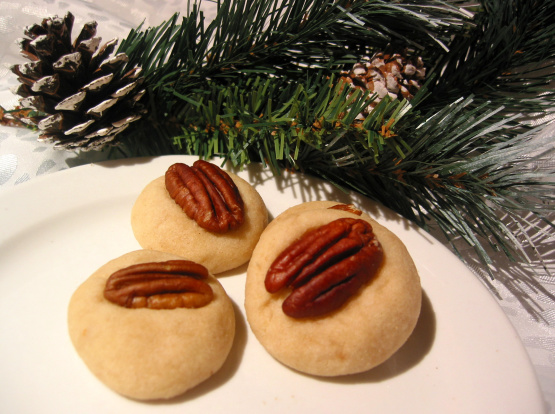 A pretty cookie with a mellow Maple flavour, perfect for your Christmas trays. I am posting this recipe for safe keeping. Of all the cookies my dear Aunt made for Christmas, this has been my favourite for many years.

This is almost identical to the recipe I got from my mom years ago. The only differences are we use 1 cup butter instead of 1/2 margarine and 1/2 butter, and we make them as a drop cookie instead of rolling them into balls. It's nice to find a family favorite online.
Beat the margarine, sugar and extract together.
In a separate bowl, stir the flour and salt together, then beat into the margarine mixture until fluffy.
Roll into 1-inch balls and place on a sprayed cookie sheet.
Gently press a pecan half onto each cookie.
Bake 12 minutes at 350°F; let cool slightly on pans before lifting onto cooling racks.
Keeps 2 weeks in a covered tin, and freezes well.
Note: This recipe does not call for eggs.