Maple Glazed Pork Roast With Sweet Potatoes
Cathy17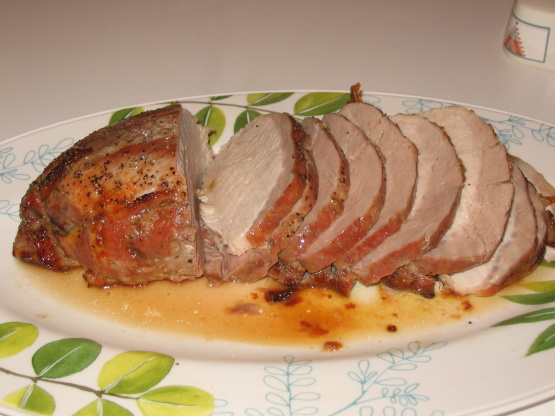 This recipe makes a delicious and flavorful roast. I use about 1/2 cup of maple syrup to baste the roast and add some brown sugar to the sweet potatoes when I mash them. I left the original recipe unchanged here to post for you. I love sweet potatoes with pork! I hope you enjoy this one!

Bev - this is a winner! I didn't make the sweet potatoes, because I didn't have any, so I made your Recipe #87047 instead. I've never had good luck with "beurre manié" (Ok, I admit, I've never made it before, let alone heard of it!) aka fancy gravy, but everything turned out fabulous! I think I started glazing the roast with maple syrup too early because it burned on my pan and I had trouble getting the bits all scraped since I used a pork loin roast and there was little fat, but other than that, it was great. I nixed dh's request for apple sauce with the roast until he had a chance to taste the beurre manié and he really liked it. Since I didn't make the sweet potatoes, I substituted my homemade veggie stock in place of the potato water and it worked really well. This is a great Sunday dinner recipe and I would also serve it to company. Thanks for a recipe that will be in my keeper list!
Preheat oven to 350°F.
Pat pork dry and season generously with salt and pepper.
Sprinkle center of a flameproof roasting pan with 1/2 tablespoon flour.
Set pork on flour in pan and roast in middle of oven 40 minutes.
Brush pork with some maple syrup and roast, brushing with maple syrup every 10 minutes, until a thermometer inserted 2 inches into center of meat registers 155°F, 20 to 25 minutes more.
While pork is roasting, peel potatoes and cut into 1 1/2-inch pieces.
In a kettle cover potatoes with salted cold water by 2 inches and simmer until tender, about 15 minutes.
Drain potatoes in a colander set over a large bowl and reserve 3 cups cooking water.
Return potatoes to kettle and mash with a potato masher, or purée in a food processor.
Season potatoes with salt and pepper and keep warm.
Transfer pork to a platter and let stand, loosely covered with foil, 10 minutes.
While pork is standing, skim fat from pan juices.
In a small bowl make a beurre manié by kneading together butter and remaining 4 tablespoons flour until smooth.
Add 1 cup reserved cooking water to roasting pan and deglaze over moderately high heat, stirring and scraping up brown bits.
Add remaining 2 cups cooking water and any juices that have accumulated on platter and bring mixture to a boil.
Whisk in beurre manié and simmer sauce, whisking, until thickened to desired consistency, about 2 minutes.
Pour sauce through a fine sieve into a sauceboat.
Slice pork and serve with sweet potatoes and sauce.
Serves 6 to 8.