ImPat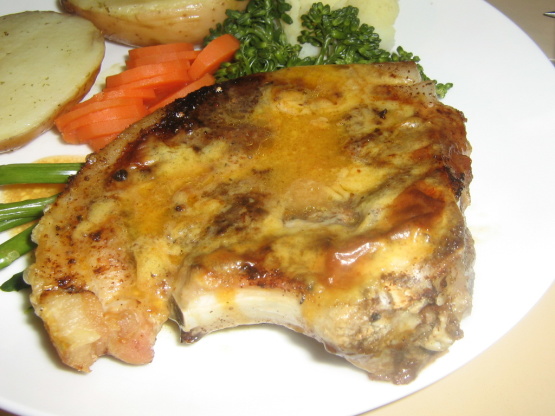 This is from the Taste of Home, April 2009 issue. Putting here for safe keeping.

Top Review by ImPat
I scaled this up for 4 chops (weighing 250g to 300g each, though only serving 3 but had 4 packaged together in the freezeer) but found that it took a full 45 minutes to cook to well done - put the sauce on in the last ten minutes and when serving up drizzled some of the cooking juices over the chops and now the DM and the DS are deciding who gets the left overs for lunch tomorrow. The spiciness of the rub (left it on the chops for about 3 hours before baking) with the sweetness of the maple syrup (used a no sugar one - diabetics and only second time using) and the smoothness of the dijon mustard and butter it was great tasting (microwaved butter in a small jug and mixed all together). Have to say quantities for rub and glaze were perfect for us. thank you mightyro_cooking4u, made for photo tag.
Combine the first five ingredients; rub over pork chops.
Place in a greased 11-in x 7-in baking dish.
Bake, uncovered, at 425 degrees for 20 minutes.
Combine the remaining ingredients; pour over chops.
Bake 5 minutes longer or until meat juices run clear.