Maple-Glazed Chicken Kabobs With Sweet Jalapeno Salsa
alligirl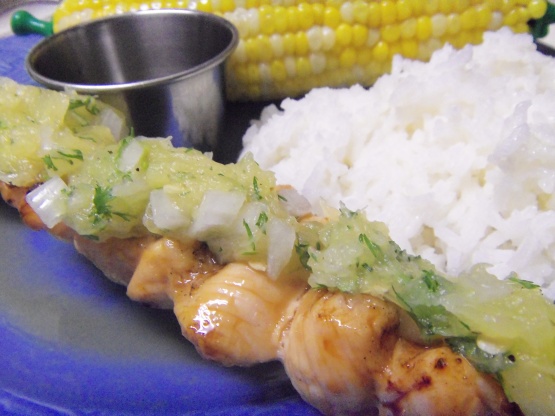 Can't wait to grill these up - they sound delicious!

Just loved this, and I can see that amazing pineapple salsa on all kinds of yummy things! I followed the recipe, except I used sweet onion, as I had it on hand. The chicken is tasty and the pineapple salsa really makes it 'JUMP!' This could be easily fixed for a crowd. Greatest hit of the night: DS (8, and very picky) ate a whole skewer! Can't get better accolades than that! Thanks for sharing, Nancy's Pantry! :-)
6

whole chicken breasts (6-7 ounces each)

118.29

ml maple syrup

59.14

ml soy sauce

59.14

ml pineapple juice

1

whole pineapple, finely diced

2

jalapeno peppers, seeded and finely minced

1

small bunch cilantro, roughly chopped

1

small red onion, diced

4.92

ml rice wine vinegar

14.79

ml sugar

2.46

ml salt
If using wooden skewers, soak in water for several hours. Slice each chicken breast into six even pieces and thread onto a separate skewer.
Combine the maple syrup, soy sauce, and pineapple juice in a small saucepan. Bring to a boil, then reduce the heat to medium and let it bubble up and reduce by about one-fourth. Set aside to cool.
In a small bowl, combine chopped pineapple, jalapeno, cilantro, red onion, vinegar, sugar, salt and pepper. Set aside.
Grill chicken kababs until nearly done. In last few minutes of grilling, baste them with the maple syrup mixture. Remove from heat and place on a platter. To serve, top the kababs with the pineapple salsa.