Directions
Peel carrots; cut into sticks.
Pour the orange juice into a 4 cup microwave safe dish.
Heat 1 minute at high .
Add the carrots and the orange rind.
Stir to coat the carrots with the orange juice.
Cover and microwave 8 to 9 minutes at high.
Stir again, then add the remianing ingredients.
Microwave, uncovered 2 minutes at high.
Stir then check for doneness.
If necessary, cook another 1 minute at High.
Most Helpful
These are clearly a 5 star recipe, I made these with recipe #60160, Southern Scalloped Potatoes, and one of my brothers grilled steaks. Great meal for February, we took alittle advantage of the 50 degree weather we've been having. Thanks for posting this great recipe Dannygirl. Melody/Lansing, IL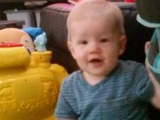 These were delicious and easy to prepare. Thank you.
We absolutely LOVED these. I made them to accompany Easter Dinner and I altered the method a bit (but not the recipe) so that I could use some of the orange sauce to baste our Easter ham. Instead of cooking it all in the microwave from the beginning, I made the orange sauce in a saucepan, doubling the ingredients so I would have enough to baste the ham. I brought the sauce to a boil, let it sit for about 15 minutes and poured half over the carrots, reserving the other half to baste. I put the carrots in the microwave and cooked them according to directions. I also added a bit of fresh dill. I didn't have any nutmeg or mace and will definitely try that next time. The carrots turned out fabulous and the orange/maple flavour really sunk into the carrots. Yes, the sauce was a bit thin, but it worked well to dip our ham in it on our plates. The sauce worked great as a wonderful baste for the ham. I basted it frequently in the last 30 minutes or so of cooking and it turned out great! This is definitely a keeper.