sharflan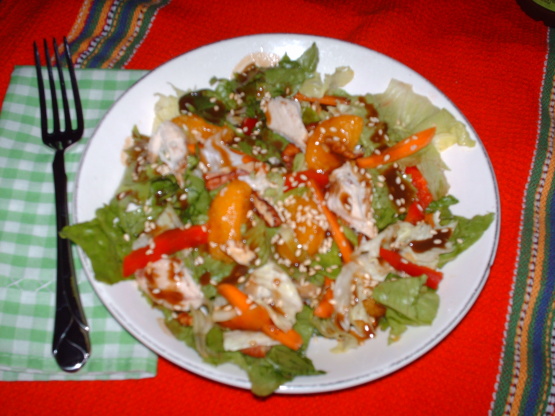 The Maple Dijon dressing is the ticket here! (It's also a perfect marinade for chicken or pork) Both refreshing and filling, this salad is just right. Great as an appetizer or as a meal on it's own!

This was pretty good! There's only 2 of us, so I halved the recipe for the dressing but I probably should have fourthed it. We had about 1/2 cup left over. The dijon makes it a little spicy almost...but good. I didn't have red onions, so I used green onions, but I think I wouldn't do that again...the flavor of the onions didn't mix well with the dressing in my opinion.
Be sure to wash the fruits and vegetables and dry on paper towels before cutting.
In a large bowl, mix your salad greens.
Sprinkle the carrot, red onion, apple and mandarin orange pieces over the top (they can be mixed in if desired).
Sprinkle your salad with the pecans and sesame seeds.
For the dressing, in a shaker bottle, add the maple syrup, Dijon mustard, brown sugar and Balsamic Vinegar.
Shake well.
Pour desired amount over your salad.
* Top with chicken pieces if desired.