Maple Cinnamon Toasted Oats
Boomette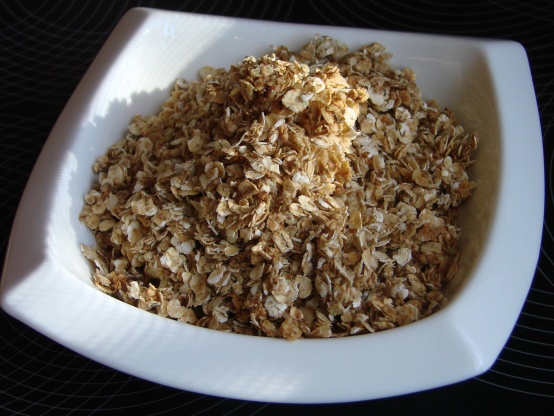 Our family LOVES these oats. We mostly eat them cooked, but they are also good cold with milk or as a topping on yogurt. They are great to take on camping trips in place of those little oatmeal packets that are loaded with sugar and artificial flavours.

This is very easy to put together and very tasty. Not too sweet. I used half rolled oats, and half rolled rye flakes. I had mine cold with milk, but looking forward to trying it hot. Made for Fall 2011 PAC game.
Mix first 4 ingredients in a small bowl or cup.
Pour over oats (in larger bowl) and mix thoroughly.
Spread onto two cookie sheets.
Bake at 325 for half an hour or until golden brown. Cool.
Serve as a cold cereal or cook in microwave or on the stove with 2 parts water or milk to one part toasted oats until thickened.