Maple-Chile Popcorn (Light)
CoffeeB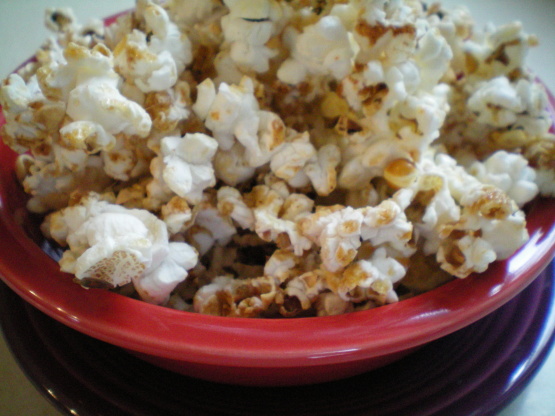 Have been safekeeping this recipe - posting so I make it soon!!! Love popcorn... and love maple syrup - should be delicious!! From Cooling Light!

Top Review by Noo
OMG!!! I hate sweet popcorn,but this is FANTASTIC!! It's hot and sweet and oh SO good.My DH is in the lounge now,with a couple of mates watching the footie,and I've just literally finished making another batch for them-it's addictive!! Thank you so much for posting Redsie,this is an awesome recipe!! Made for 1-2-3 Hit Wonders.
cooking spray

8

cups popped popcorn (popped without salt or fat)
1⁄2 cup maple syrup

1

tablespoon butter
1⁄2 teaspoon salt
1⁄2 teaspoon ground red pepper
Preheat oven to 300°.
Coat a 15 x 10-inch jelly-roll pan or other large rimmed baking pan with cooking spray. Place popcorn in a large metal or glass bowl lightly coated with cooking spray.
Combine syrup, butter, salt, and pepper in a saucepan over medium heat. Bring to a boil, stirring just until combined. Cook, without stirring, for 2 minutes. Pour syrup mixture over popcorn in a steady stream, stirring to coat.
Spread popcorn mixture in an even layer into prepared pan. Bake at 300° for 15 minutes. Remove from oven, and cool completely in pan.