ImPat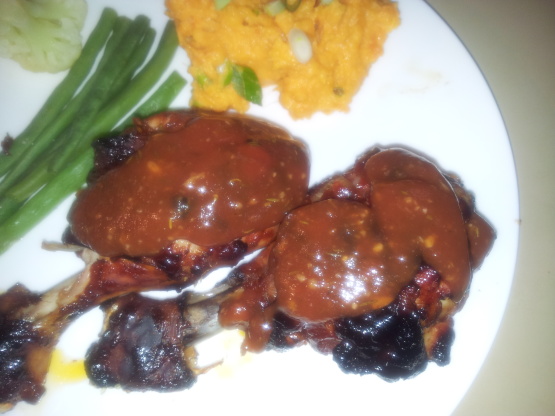 I got this recipe from the back of a Heinz ketchup bottle. I always loved the taste of bacon and maple syrup so I thought I'd give it try. It was great, very tasty. It calls for drumsticks, but I used 3 chicken breasts and cut them into about 1 1/2 inch pieces instead. This recipe makes a lot of sauce. Next time I make it I will cut the ingredient amounts in half. Or another idea would be to make the full amount of sauce but divide it so you can use one half for a dipping sauce which I should have done. Either way it is very tasty. I also omitted the cloves.

Top Review by ImPat
Loved that sauce not too sweet and oh so tasty, I had a little left over after basting and heated it in the microwave and spooned it over the drumsticks though next time I will serve it on the side for dipping as it sent the bacon a little soggy but it is worth making a little extra for dipping, thank you LuuvBunny, made for Name that Ingredient.
Season chicken with salt & pepper to taste.
Roll each piece of chicken in bacon, fastened with a toothpick.
Insert cloves & place in roasting pan.
Mix together Worcestershire sauce, maple syrup, ketchup, garlic, thyme and lemon juice.
Brush each wrapped chicken piece with sauce.
Bake in 400°F oven for 45-60 minutes, basting occasionally.