Maple Brined, Chicken Fingers
Capn Ron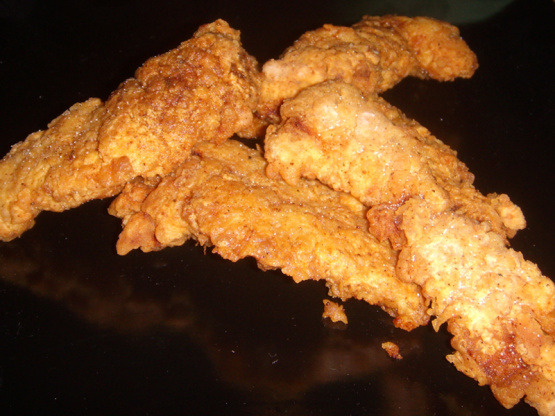 I've been wanting to make these ever since I came up with Better than Granny's, Maple Fried Chicken. So here I am with some extra chicken breasts, and figured that this was the time. They have a nice crispy texture. with the hint of Maple Syrup to the chicken. Butt Kickin' Blacken contains neither salt nor sugar, and is available at http://www.capnrons.com/index.html?id=RZ_MB_CF If you use a different spice blend, you will probably have to adjust for their salt content.
Slice the chicken into 3 thin pieces, then cut each piece in half.
Make the brine by combining the first 5 ingredients. Place the chicken in a plastic bag, add the marinade, and place in the refrigerator for at least 2 hours, but 24 hours is OK. Leaving the chicken in the brine overnight will give the chicken enough time to absorb the flavor of the Maple Syrup.
Mix the flour and seasonings together in a large flat pan like a jelly roll pan (I use a half chafer pan 'cause of the high sides. Take the chicken out of the bag with tongs, lay in the flour mixture then turn over. Take 3 legs and 3 thighs out to coat with this flour mixture. Rub the flour into the chicken with your hands, don't shake off the excess and place in a pan to get ready for frying.
Heat the oil to about 300°F in a black frying pan, and place the chicken in being careful not to splash the oil.
Leave the chicken alone for 10 - 12 minutes. When you start to see some blood being forced out of the chicken (this means that the chicken is cooking), carefully turn them over. Leave another 10 - 12 minutes. The second side should be well colored.
Place them either on paper towels, or on a rack in a sheet pan, and season immediately with salt and a little more Butt Kickin' Blacken.