PaulaG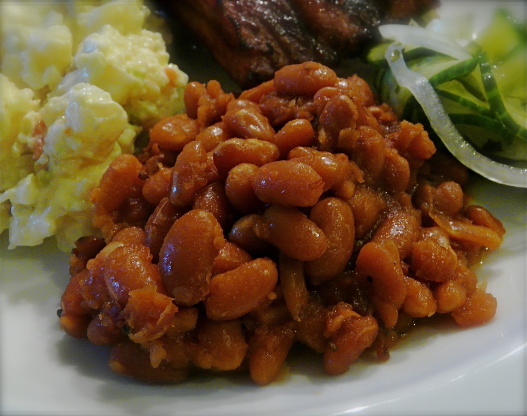 Taken ages ago from the website ' About ' when looking for recipes using maple syrup - I have not made these but certainly intend to have a go .Preparation time does not include soaking the beans. UPDATE - I have since made this recipe and the flavours are very mild - too mild for me so you might want to be a bit heavy handed - I also added a can of diced tomatoes and cooked them for an extra hour.
Top Review by PaulaG
The recipe was reduced to 1 pound of beans which were soaked overnight and then cooked in the crock pot with 2 slices of thick cut bacon. Additional warm water was added as the beans cooked. I held off salting until the beans were just tender. About 30 minutes before serving the beans were placed in the oven to develop more of a baked bean texture. They got rave reviews! Made for Aussie Swap.
Place beans in large saucepan and cover with cold water.
Bring to the boil and simmer 2 minutes.
Remove from heat and stand covered for 1 hour.
Drain and reserve liquid.
In a small bowl combine syrup, sauce, onion salt and mustard.
Place 1/2 the beans in a 1 quart casserole dish.
Top with diced pork or bacon.
Add remaining beans.
Pour maple syrup mixture over beans.
Add 1 1/2 cups of reserved bean liquid.
Cover and bake at 300 degrees for 2 hours.
Stir occasionally and add more reserved liquid id need be to keep beans moist.